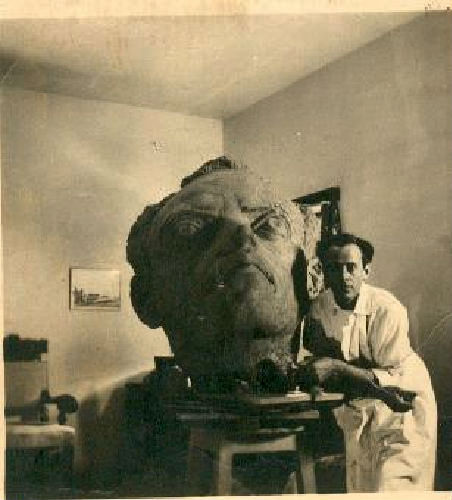 David Malkin, sculptor
Like many young Jews of his generation, Malkin became a Zionist socialist in response to growing anti-Semitism in Eastern Europe. From 1928 to 1934, he was a cell leader for the Hashomer Hatzair secular youth movement. In 1932, after being conscripted by the Romanian military and serving in a heavy artillery regiment, he decided to "make Aliyah." Thus in 1934, he became one of the numerous pioneers from Eastern Europe who participated in building the future state of Israel.
Malkin was first a haver-kibbutz in Magdiel (kibbutz Daliah) for two years (1934-1936). He worked as a craftsman by day and as a watchman by night, and he tried hard to keep up with his sculpting, mostly at night. He then moved to Haifa in 1936 where he continued to sculpt. To earn his living, he became a workman then a finish carpenter, a trade that he learned and practiced on the kibbutz.
From 1938 to 1947, he lived in Jerusalem near Mea Shearim, the neighborhood of the strictly orthodox Hasidim community. Years later, the Hasidim would inspire a recurrent theme in his pictorial work.
In 1938, Malkin put on a solo exhibition of his sculptures at the Schlosser Gallery in Jerusalem. He was deeply involved in the cultural and artistic life of a nation in the making. He completed portraits and busts of his friends including the Yiddish poet Uri Zvi Grimberg, the actress Hana Rovina from the Habima Theater in Jerusalem, and the writer and journalist Joshua Tan Pai.
In 1939, David Malkin married Miriam Tal, an art critic. In 1941, they had a daughter, Rama.
In 1942, he enlisted as a volunteer in the Jewish unit of the British Eighth Army under the command of Field Marshal Bernard Montgomery and took part in the Italian and African campaigns. He served in a unit specialized in camouflage where he used his carpenter skills to build decoys for diverting enemy aircraft.
With the help of his commander, an art lover, Malkin was able to continue sculpting despite the inherent difficulties of life in a roving military camp.
Following his demobilization in 1945, Malkin's busts of officers and friends from the unit became the subject of an exhibition organized by the Cultural Center of the British Army in Jerusalem.
In 1946, Malkin exhibited his works at the Hahalutzot Center (Ben-Zvi Institute) of Jerusalem and received a scholarship from the Joint Distribution Committee and the Jewish Agency in Jerusalem awarded to artists-soldiers who distinguished themselves during the war.