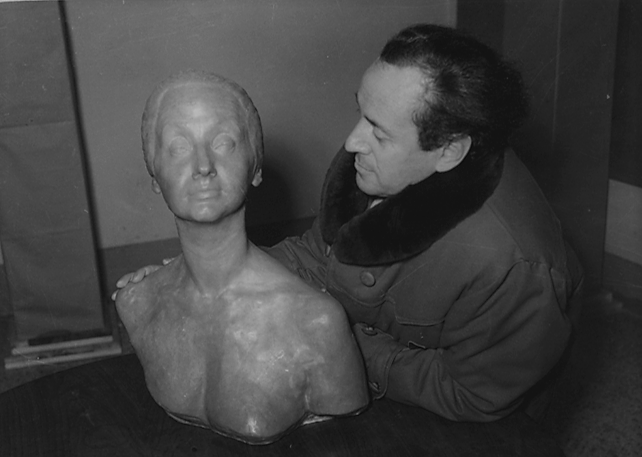 Already an accomplished sculptor in 1947, David Malkin applied his scholarship funds to enroll in the Academy of Fine Arts in Florence, Italy to further his study of classical sculpture and of human anatomy. He reunited with Maddalena, a fellow art student he had met in 1945. Malkin divorced his first wife and in 1950 he married Maddalena. She converted to Judaism and chose to take the name Ruth. They had two daughters, Shira, born in Florence in 1953, and Yona, born in Paris in 1957.
In Florence, the bohemian couple associated with a vibrant post-war international community of artists and intellectuals. They were close to the sculptor Giacomo Manzù and the painters Carlo Carrà and Massimo Campigli. In 1950, Malkin received the Florence Academy of Fine Arts Award. In 1951, he organized a sculpture exhibition in Rome alongside works by the Israeli painter Mordechai Levanon. He continued to exhibit regularly in Florence. In 1952, he participated in the "Mezzo Secolo di Arte Toscana" group show at the Palazzo Strozzi and in 1955 he held two successive solo exhibitions at the galleries Il Numero and La Cava.
By 1954, it was seven years since Malkin left Jerusalem. He was away when the State of Israel came into existence and he had been trying to come to terms with the news that his mother, his brother Lazar, and his sister Bettya had been killed in the Holocaust. He undertook a project to create a monument to commemorate the victims.
While he was happy in Florence, Malkin yearned to reconnect to his roots. It was in this nostalgic framework that he created a number of compositions using Hebrew letters. Two of these sculptures in particular conveyed in architectural terms the verse from a Psalm of David, "The rivers shall clap their hands and the mountains shall rejoice together."