From The Commercial Appeal
David Malkin's abstract paintings conjure mysticism at Jay Etkin Gallery
Fredric Koeppel, Special to The Commercial Appeal
Mysticism in art is one of those things that if you try too hard, you don't succeed. Who knows how many paintings of saints in the throes of martyrdom were churned out during the Renaissance and Baroque periods of which we might react to the narrative but not to any supposed mystical or spiritual element? In fact, the feeling of mystical transcendence more often derives from abstraction, in which the intensity of color and form and the very blankness of content achieve a sort of otherworldliness. Certain paintings by Wassily Kandinsky, Paul Klee, Josef Albers and Mark Rothko, for example, convey in different manners the frisson of a connection to a higher realm of intuition and consciousness, taking us out of ourselves and into the great unexplainable.
Add David Malkin to that brief list. An exhibition of 22 of his small luminous paintings is on display through Feb. 22 at Jay Etkin Gallery, the artist's first show in America.
Malkin's fascinating life began in 1910 in a town near Odessa, Ukraine, where he began his artistic training at age 12. He was the grandson of a scribe at a synagogue and the son of a man who sold paints and other artist supplies. Malkin emigrated to Palestine in 1934, working as a figurative sculptor, lived on a kibbutz for two years, and then served in the Jewish unit of the British Eighth Army during World War II. A fellowship allowed him to travel to Florence to study. After five years in Tuscany, Malkin moved to Paris in 1955, a relocation that coincided with a retreat from sculpture and an emphasis on abstract painting. Whereas abstraction of the period aimed at size and dramatic gesture, Malkin deliberated worked in a quieter, reductionist mode. The artist died in 2002 in Paris. He works are handled by the Galerie Arnoux in Paris.
What's the connection to Memphis? The artist's daughter, Shira Malkin, is an associate professor of French at Rhodes College and a longtime friend of Jay Etkin.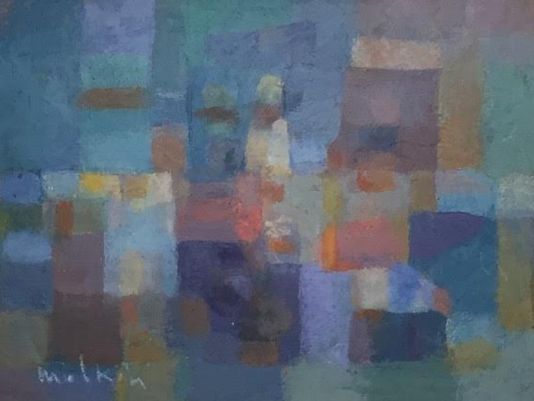 The works in this exhibition are all oil on cardboard or various kinds of paper, some colored, some metallic, some Japanese. The sizes tend to be about 8-by-10 or 10-by-12 inches, though a few occur in a square format. Although one piece here, "Gathering," is from the late 1960s, the rest date from about 1980 to 1990. The majority of the paintings are untitled.
Malkin is a master colorist, often working in somber yet jewel-like tones that resonate in relationship to one another, as in the piece illustrated with this review, in which various depths and hues of blue seem to elide with notes of gray and beige, a stripe of orange, a dot of yellow, light pink and darker army green, all rendered with lovely delicacy, spontaneity and transparency, yet projecting great confidence and inevitability. This untitled work is typical of Malkin's efforts in its overall composition with a focus on a kind of floating sequence of gestures and figures, assembled, you might say, in a series of square or rectangular tesserae, beautifully connected through a particular intensity of instinct, perception and craft.
I found these small works to be quite large in implication and consequence, to the point that they seem almost a species of divination, a ritual of concealment and revelation in which resides the core of contemplation and meditation, burnished by the holy spirit of art and faith.
David Malkin, 'Selected Paintings, 1965-1995'
Through Feb. 22 at Jay Etkin Gallery, 942 S. Cooper, through Feb. 22. Call 901-550-0064, or visit jayetkingallery.com.